Another Friday. Another chance to look back and wish I was somewhere else.
Right now I'm wishing I was hanging with my girls again! I miss them tons! It's been 4 months and although we're planning to meet up again I just don't think I can wait anther 8 months. Ladies, we need to do it again like now!
There were so many funny pictures taken that I had a hard time choosing just one. If you'd like to see more click

here

and here.
Here is my choice. We were all ready to go out to dinner and do a little dancing. We all look pretty freaking hot don't we?!!? We had a great time that night, I will never forget Paul our porn star waiter, the rude rickshaw driver, Becca oohing over how pretty the drag queen was, IA peeing in the parking lot, dancing all night at Six and possibly watching a baby being made on the dance floor!
Seriously ladies, we need do it again soon!
Thanks for hosting Friday Daydreamin' Becca...MUAH!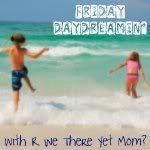 Don't forget to enter to win a
free Making Memories
digital scrapbooking program. Click here for all the details!