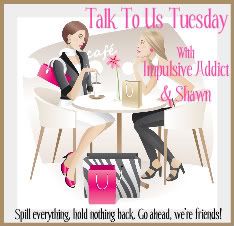 It's week number 3 and

IA

, my incredible co-host who will be here in TWO days, and I are so glad you're back for another week!
Let me just start by saying I've been waiting all week to dump this one on you. All week I tell ya. I so need your affirmation!
American Pie-we all know the movie right? It was incredibly inappropriate and extremely funny! I believe it was responsible for coining the phrase MILF. Dad and Honey, this is where you STOP reading! I mean it, step away from your computer!
Now that they're gone if you don't know what a MILF is email me, I'll send you my cell number, we need to talk.
Anyway, I guess I'm a MILF. I have to say I'm embarrassed to tell you that. I'm not one to talk about myself like this, I don't really care for those that stroke their own ego, but since we're friends I feel safe telling you what's going on.
Apparently there are a few boys that go to Honey's school that think I'm a MILF and would like nothing more than for me to be a single Cougar with a wild side. Or someone who has no fear of the law or any morals what-so-ever!
Now I'm all for getting a compliment, who isn't right? And I've said several times that it feels good to be noticed in a respectful manner but shouldn't those doing the noticing at least be old enough to buy me a drink, that is assuming I wasn't happily married and would want a drink. If they're not old enough to buy me a drink they should at least be able to serve our country and vote for a decent President!
Now I'm not saying that these boys aren't little hotties, I'd be dead if I didn't notice. Let me just say they just aren't made like they were back in 1987! But there still needs to be some boundaries!
Seriously!
I am friends with several of Honey's friends on FB, I find it to be the easiest way to see what she and her friends are up to but I have rules. They have to be within the inner friendship circle. I must be able to recognize them and remember their first and last name. I would prefer to know their Mommas! You get the idea right, I'm not just accepting friendship from random 17 year old boys! That's a fast way to wind up in trouble or having my picture printed off the computer and...EWWW!!!!
If I have to ask my daughter who the person requesting my friendship is and her response is "Oh, he's one of my friends that thinks you're hot" that's cause for me to hit the "Not Now" button with zero hesitation or regret right?
Good. I'm so glad it's not just me that feels as if a line has been crossed!
What about you? What' on your mind? You can tell us, we're friends!
****Today is also the Monthly Vlog with Mamarazzi and me!****
Due to "technical issues" this has been removed.
Due to lack of interest the Monthly Vlog has been cancelled, this makes me sad! BUT don't worry, I'll still throw in a vlog every once and a while just so you can see what a MILF I am!